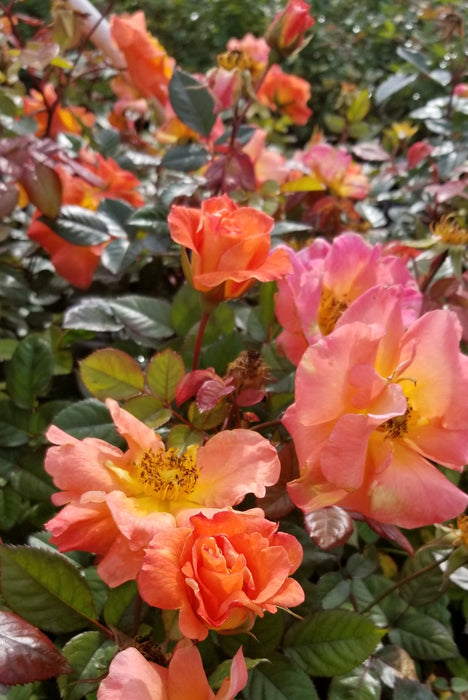 Firecracker- Kolorscape®
This flower is good for your area
This flower is too tender for your area
Stock No. - 2265
2019
3 to 4 feet    Z5-11 R Fr ob
'Firecracker' Kolorscape is a refreshing and colorful addition to any landscape.   
This compact mounding shrub is loaded with brightly colored orange and yellow blooms from Spring until a hard frost. The lightly fragrant roses are semi-double and when the blooms fully open the pollinators move in for a feast. We also love the dark red colored canes as well as the red edged serrated leaves.
Firecracker™ Kolorscape® is stunning used in the landscape in a mass planting with its bronzed new growth and glossy green foliage adorned with vividly colored roses. As a specimen or container plant, this rose will POP! Moderately sized, this rose averages 3-4' tall and 2.5 - 3' wide and is very heat tolerant and blackspot resistant. 
w = white
my = medium yellow
yb = yellow blend
ab = apricot blend
ob = orange blend
op = orange pink
lp = light pink
ly = light yellow
mp = medium pink
dp = deep pink
pb = pink blend
dr = dark red
mr = medium red
rb = red blend
m = mauve
mb = mauve blend
R = Repeat Blooming
O = Spring Blooming
Fr = Fragrant
H = Hip Display